NEWS | PROPERTIES | PREVIEWS | EVENTS
originally published: 10/12/2022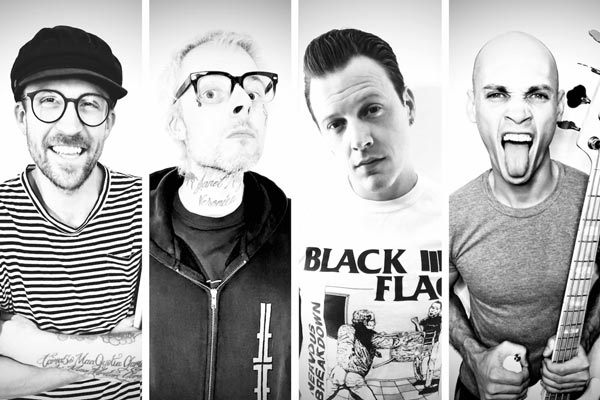 What do you do when EVERYONE stops making records? You form a band with your friends and create your own.
NOT is the brainchild of singer/songwriter Davey Warsop, the LA-based Brit known for fronting bands such as Beat Union, Suedehead and Sharp/Shock. Warsop met guitarist Brendan Scholz and bassist Jarred Cooper (both of Las Vegas' Mercy Music) at a funeral, when their mutual manager and So-Cal punk legend Stewart Teggart tragically passed away. Through a shared love of pop-punk pioneers ALL and the Descendents, the trio drew in Kyle Whitmore on drums and decided to make an album dedicated to Teggart. It seemed fitting since it was their late friend and mentor who made life between them to begin with.
Warsop and Scholz (both dedicated primary songwriters on their other musical projects) decided to join forces exclusively for NOT, resulting in a dynamic writing duo, much like the pop-punk Lennon/McCartney.
Their debut album "Stop the World" features 14 hyperactive, caffeine-fueled pop songs that boast hook after hook of choruses about love and grief while battling wild guitar solos and raging bass energy.
To top things off, "Stop the World" wouldn't be a fitting tribute to the ALL/Descendents DIY work ethic, without it being self-produced. Since landing in Los Angeles, Warsop has been producing and designing for the likes of The Used, Green Day, Bad Cop Bad Cop and Face To Face. So it makes sense that the album was tracked at Warsop's Strong Studios in Long Beach, California, with himself at the helm. The album was then mixed and mastered by Paul Miner (known for his work with New Found Glory and Death By Stereo).
Advertise with New Jersey Stage for $50-$100 per month, click here for details
---
Debut track 'Stop the World' is streaming everywhere now with full-length heading into the new year via Wiretapping records (North America), Brassneck Records (UK/Europe) and Waterslide Records (Japan). CDs and cassettes will also be available through Paper and Plastick.
In Warsop's own words "So many musicians have unapologetically revered bands like The Ramones or The Clash… It's about time someone did the same for EVERYONE. We're just trying to fly that flag as proudly as possible."
Scholz added "We're definitely not reinventing the wheel, rather celebrating and honoring the bands that helped define the pop punk genre. So if you like pop punk, you will love NOT"
Advertise with New Jersey Stage for $50-$100 per month, click here for details
---