The first temporary stadium for the FIFA World Cup will be demolished soon after Qatar 2022 hosts seven matches in two weeks.
Stadium 974 – named after Qatar's international area code and the number of shipping containers used in its construction – was one of seven pitches built for the tournament, while the eighth was extensively rebuilt.
The entire steel structure of Stadium 974 can be used for another World Cup or major sporting event, either as a venue of the same size or as several smaller spaces.
Qatar called the stadium a "beacon of sustainable development" as part of its pledge to host the first carbon-neutral World Cup.
As well as seven new stadiums, Qatar has a new airport, metro system, roads and about 100 new hotels, but has faced intense scrutiny and criticism over the way it has treated the tens of thousands of migrant workers used to build the infrastructure.
Stadium 974 will be used for fashion shows and concerts in the coming days, and a spokesman for the Qatar 2022 organizing committee says the "exact timetable for complete demolition and re-use" is not yet complete.
So how sustainable is the Stadium 974 project? And where and when will the stadium be used again?
A glimpse of the future?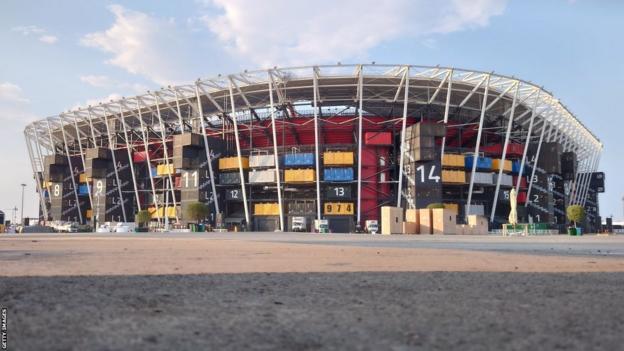 Located on Doha's waterfront, the 44,089-seat Stadium 974 features a modular steel frame and multi-colored shipping containers that are visible from outside the stadium and from the in-house restrooms and food and beverage stalls.
It was the only stadium built for the World Cup without air conditioning, so it only hosted evening matches, culminating in Brazil's last-16 victory over South Korea on 5 December.
The use of shipping containers and recycled steel helped to reduce the waste generated and construction time compared to other new facilities.
Qatar and designers Fenwick Iribarren Architects said they sought to avoid building a "white elephant" – a venue that is not or rarely used after the tournament, as evidenced by the past three World Cups in Russia, Brazil and South Africa.
Environmental watchdog group Carbon Market Watch said that if the reuse of existing demountable structures could be widely replicated, it could make bidding for major sporting events "more accessible to developing countries" as the cost would be shared among the many countries hosting different versions.
The Stadium 974 report, commissioned by Fifa and delivered by emissions reduction experts, also pointed to this benefit, adding that it could allow stadiums to be built in more central and "easily accessible" locations, reducing "intra-city fan travel" during tournaments.
Organizers have also said they will donate 170,000 seats from other stadiums to developing countries in an effort to make them more sustainable and avoid underutilization in the future. However, according to Carbon Market Watch, "no concrete plans were found" to share the seats.
Environmentalists have also described the claim of Qatar's World Cup being carbon neutral as "dangerous and misleading". the tournament's carbon footprint could be three times larger than announced.
The importance of reuse
The Fifa report compared the emissions from the Stadion 974 building to the average emissions of four permanent stadiums with a capacity of 40,000-45,000.
It found that the temporary stadium "initially emits more carbon dioxide due to the use of carbon-intensive materials such as metal and steel" – as opposed to permanent stadiums with mainly concrete – allowing it to be dismantled and demolished multiple times.
So as it stands, Stadium 974's carbon footprint is larger than similar permanent stadiums built for Qatari 2022.
For a temporary stadium to have a smaller overall footprint than many permanent stadiums, Carbon Market Watch said it "depends on how many times and how far the stadium is transported and reassembled".
Fifa's study evaluated three different future scenarios for Stadium 974, where it is used once, twice or three times in different locations.
It stated that if the temporary stadium is to be reused only once, it must be moved "within a total distance of 7,033 km by sea and road" to be "environmentally more affordable" than building two permanent stadiums. It also highlighted the environmental benefits of reusing the stadium in the region or specifically in Qatar.
This maximum distance increases to 40,118 kilometers with two reuses and to 72,616 kilometers with three.
All three scenarios were also modeled after a temporary stadium that spent four years at the first location and at each subsequent location before serving the remainder of its 60-year lifespan at its final destination.
Where is the stadium going?
No decision appears to have been made regarding the future use or location of Stadium 974.
According to Carbon Market Watch, while organizers have "emphasized the removable nature of the temporary stadium, we were unable to identify any specific plans to indicate where, if at all, the stadium will be moved."
It has been reported that Stadium 974 could be sent to Uruguay, which is part of a joint bid with Argentina, Chile and Paraguay for the 2030 World Cup.
Uruguay is about 13,000 kilometers from Doha, so if the temporary stadium is moved there, it would have to be reused in a third location to be more environmentally friendly than building separate new stadiums in each location.
When asked by the organizing committee about future plans and possible venues for Stadium 974, he said: "Qatar is on track to deliver the first carbon neutral Fifa World Cup.
"This means that all infrastructure projects – including the eight stadiums – must meet strict sustainability criteria.
"During construction we have recycled and reused wherever possible and implemented a wide range of energy and water efficiency solutions. We have also used sustainably sourced materials and implemented innovative legacy plans to ensure the tournament remains nothing but white elephants".